BLOODYMINDED "PHASES : THREE" 3x7-inch Box Set (Rococo Records)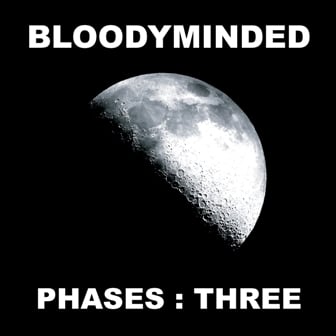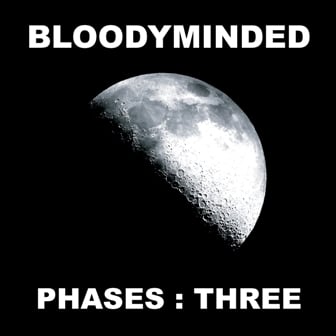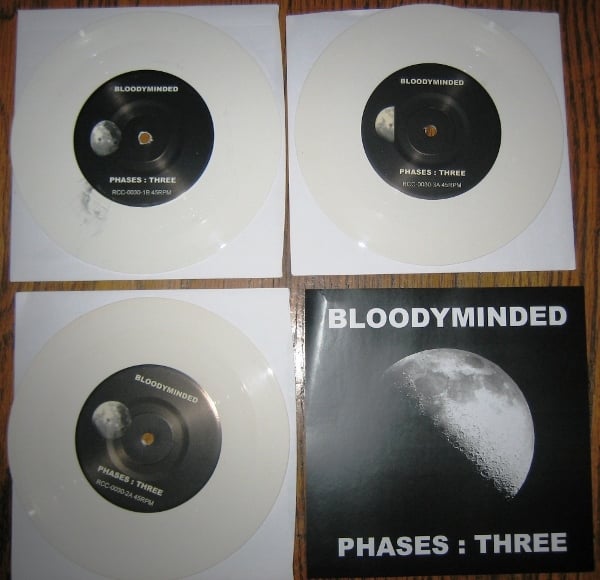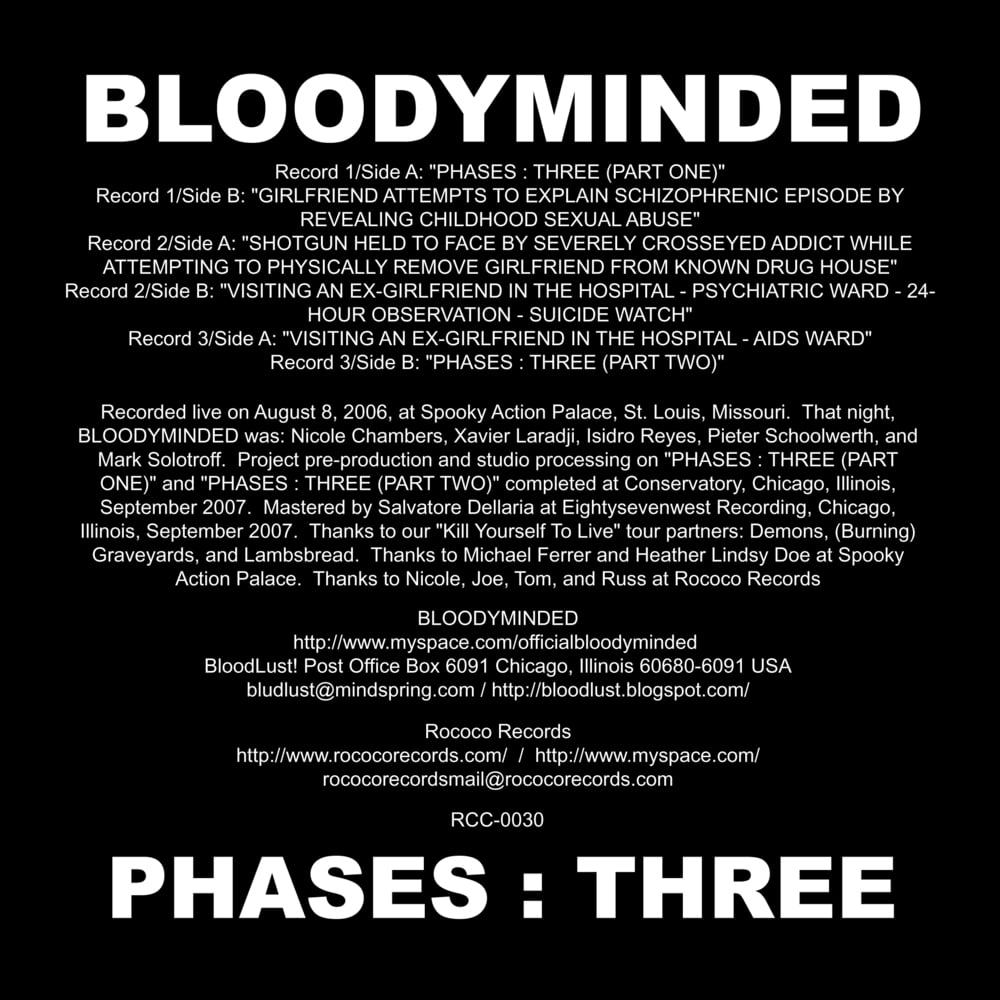 Box set includes three (3) white vinyl 7-inch singles in individual silkscreened sleeves, double-sided 7" x 7" inset, edition number slip, housed in custom made lidded boxes.
Edition of 300
I know what you are thinking, "What is this thing?" Or maybe, "Why does it exist?" Why does such a beautifully packaged triple white vinyl 7-inch set, housed in individual silkscreened sleeves and custom-made boxes, and containing some of the rawest BLOODYMINDED tracks ever captured on tape, or MiniDisc, in this case, even fucking exist? And lord knows, there are a few preceding raw BLOODYMINDED live recordings, that much is certain. And why are these four basement bruises bookended by such seemingly high-fidelity studio fuckery? Well, let's talk about it, for a minute. The band went out on tour in August 2006, in support of our "Magnetism" CD, along with some friends: Demons, Graveyards (sometimes Burning when C. Spencer Yeh would appear), and Lambsbread. Each night, we played four songs off of the then-still-new album. Those would be the middle four cuts that appear here. The strange thing about those "Magnetism" tracks (and boy, did they ultimately prove to be ultra-magnetic the night in question, but who knew?), unlike most core BLOODYMINDED songs, is that they have no discernable lyrics, per se, so that always leaves a lot of room for vocal improvisation… or a bunch of screaming, moaning, shrieking, and whatnot. In this particular case, these four works of art were recorded live on August 8, 2006, at Spooky Action Palace, in Saint Louis, Missouri. We had played there before and we were as comfortable as you can get in the humid basement of a house in a Midwestern town, during a tour that saw 100-degree temperatures pretty much every day. That particular night was special, as BLOODYMINDED, which has members scattered not just around the country, but across the globe, had a pretty extraordinary line-up. Über-fan Nicole Chambers had been brought into the fold to play synth and to handle the live mix for that tour. Xavier Laradji flew in from Toulouse, France, to play synth, to add some Froggy vocals, and to take in as much Americana as he could that summer. Isidro Reyes, who could not go with us on that tour due to "other commitments," made the marathon there-and-back drive from Chicago to Saint Louis, just for this one god damned show. Pieter Schoolwerth was on loan from New York, specifically to break synths, to snap microphone cables, and to keep things as lively as possible. And me, Mark Solotroff, I drove the car, I screamed, moaned, shrieked, sweated, etc. Weird, indeed. Three guys who are among my very closest friends and brothers, and one chillingly silent girl, putting on some mileage and attempting to stir things up, night after night (except Isidro on all but this one night. Damn.). Again, why did this thing get made? Why these songs? Because, it is absolutely the most pure example of how out of control this thing could get, given all of the right/wrong circumstances: a heat-wave; vintage analog synthesizers getting beat to hell on a nightly basis; non-existent PA systems; wound-up audiences of various sizes; blood, sweat, and maybe some tears. And basements. Basements do make a difference. So, what about the first and the last track? Well, following the pattern set with the "PHASES : ONE" cassette and the "PHASES : TWO" CD – and I do love patterns, of course – the "PHASES : THREE" parts seek to offer a different process, whereby songs, audience outbreaks, and incidental moments during a show, find their way into a disorienting mixture of sound and texture, blended up and damaged, as if run through an audio In-Sink-Erator, and then get lovingly re-assembled for maximum fidelity (almost). And why "Magnetism," why these song titles, and why the moon imagery? I have answered that before. My mom – and – it all really happened. Do we learn? Apparently not. For the record, lest you think that this is some sort of low-fidelity mess more suited for a vomit-encrusted cassette tape, the studio processing on "PHASES : THREE (PART ONE)" and "PHASES : THREE (PART TWO)" and pre-production for all six songs was completed at Conservatory, Chicago, Illinois, September 2007, and mastering was skillfully completed by Salvatore Dellaria at Eightysevenwest Recording, Chicago, Illinois, September 2007. Trust me, crank it up and you will feel like you are in that basement at that show. With love and thanks to ROCOCO : PHASE : ONE : Joe, Nicole, Russ, and Tom.
Track Listing:
Record 1/Side A: "PHASES : THREE (PART ONE)"
Record 1/Side B: "GIRLFRIEND ATTEMPTS TO EXPLAIN SCHIZOPHRENIC EPISODE BY REVEALING CHILDHOOD SEXUAL ABUSE"
Record 2/Side A: "SHOTGUN HELD TO FACE BY SEVERELY CROSSEYED ADDICT WHILE ATTEMPTING TO PHYSICALLY REMOVE GIRLFRIEND FROM KNOWN DRUG HOUSE"
Record 2/Side B: "VISITING AN EX-GIRLFRIEND IN THE HOSPITAL - PSYCHIATRIC WARD - 24-HOUR OBSERVATION - SUICIDE WATCH"
Record 3/Side A: "VISITING AN EX-GIRLFRIEND IN THE HOSPITAL - AIDS WARD"
Record 3/Side B: "PHASES : THREE (PART TWO)"
Digital version available via Bandcamp