B!176 BLOODYMINDED "Within The Walls" LP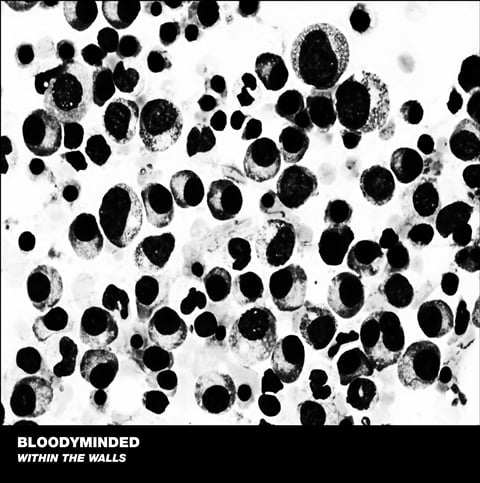 LP version of new BLOODYMINDED full-length "Within The Walls"
BLOODYMINDED
"Within The Walls"
BloodLust! (B!176)
BLOODYMINDED is a heavy electronic band that was formed in New York, in 1995, after the dissolution of the early American industrial noise group Intrinsic Action, founded by Mark Solotroff in 1984. The group's live shows are extremely energetic, characterized by layers of screeching analog synthesizer, aggressive vocals, and a copious amount of feedback. While BLOODYMINDED operate within the noise scene, their sound is broadly informed by their industrial forbearers, NYC pre-punk and noise rock, and British hardcore and grindcore. BLOODYMINDED has performed with diverse artists covering noise, power-electronics, experimental, avant-garde, death-rock, industrial, hardcore, metal and punk. Although currently based in Chicago, members also live in Brooklyn, New York, Milwaukee, Wisconsin, and Toulouse, France.
"Within The Walls" is the band's fifth full-length studio recording and the first to be issued since their 2006 album, "Magnetism." Numerous false starts led to the band entering the studio with acclaimed doom metal producer, Sanford Parker, to finally commit the new set of songs to tape (no, computer). The album is based on the concept of "love and loss in a time of great sadness," and it follows themes established by members Isidro Reyes and Mark Solotroff in their offshoot band, The Fortieth Day. Reyes and Solotroff closely collaborated on the lyrics, working in both Spanish and English. Released on LP, CD and digital, this marks the first BLOODYMINDED full-length on vinyl. In addition to basic black, a special edition of 100 copies will be released on white vinyl, with a silk screen print based on the front cover artwork, printed by Erin Page of Kill Hatsumomo Prints.
Along with core members Xavier Laradji, James Moy, Isidro Reyes, Pieter Schoolwerth and Mark Solotroff, select guest musicians were drafted to assist with the album. Longstanding BLOODYMINDED family member, David Reed (Envenomist, Luasa Raelon), who has played live with the band on numerous occasions, was brought in to create an atmospheric opener for the album. He was aided by Blake Edwards (Vertonen), Solotroff's ex-band mate in Anatomy of Habit and Animal Law. Edwards created a collection of metal-on-metal textures that add to the disquieting feel of "All The Cities Are Occupied." Along with co-producing, Sanford Parker played lead synthesizer on the album closer, "Inverted Ruins," a remake of the Locrian song – which Solotroff originally sang on – from that group's 2010 album, "Territories." Edwards reprised his dark metallic drones for the uncharacteristically melodic song. What happens in between those two songs is a bombastic, high-fidelity assault of electronic noise, screams, feedback and purgation.
During the long gap between albums, the members of BLOODYMINDED were hardly idle. Laradji stepped up his role as a publisher, releasing increasingly lavish editions of art and negative-culture books under the Timeless banner. Moy established his reputation as a true death-industrial force, with solo work under the charming Anal Hearse moniker. Reyes remained exceptionally busy, performing live and releasing over a dozen full-length albums with The Fortieth Day, and in 2012, he released his first solo work through the esteemed Mexican label, Ruido Horrible. Based in Brooklyn, Schoolwerth continues his successful painting career, and until early 2013, he helmed Wierd Records, releasing numerous acclaimed recordings of minimal-synth, cold wave and challenging electronic music. His weekly parties under the Wierd name brought hundreds of dark music artists to eager, debauched, late-night audiences in NYC. Solotroff worked closely with Reyes in The Fortieth Day and he recorded and toured in the synth trio Nightmares (with David Reed and Jonathan Canady), while also joining the doom band Animal Law and later co-founding the group Anatomy of Habit. He has made guest appearances, live and/or recorded, with Alma Negra, The Atlas Moth, Brutal Truth, Consumer Electronics, Indian, Locrian, Rabid Rabbit, etc. Although his solo microphone-feedback performances have become infrequent, he has also been recording and performing with Thrill Jockey artists Wrekmeister Harmonies, since late-2011. Solotroff continues to oversee the noise, synth and metal label, BloodLust!, which he founded in 1994.
Track Listing:
01. "All The Cities Are Occupied" (9:06)
02. "Within The Walls" (2:16)
03. "Night Strikes" (5:13)
04. "Token 3" (0:58)
05. "Disintegration" (6:26)
06. "Token 4" (0:34)
07. "Fatal Breath" (6:27)
08. "Token 5" (1:18)
09. "Circular Relations" (3:36)
10. "Token 6" (1:06)
11. "Token 7" (0:08)
12. "Outside The Gate" (3:03)
13. "Inverted Ruins" (6:49)