B!172 Chris Connelly "Artificial Madness" LP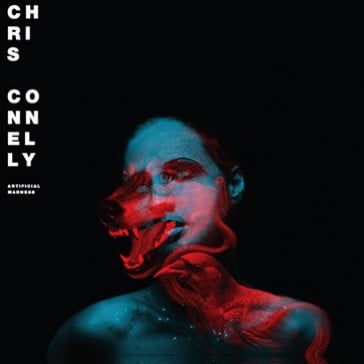 -----------------------------------------------
Artist: Chris Connelly
Title: "Artificial Madness"
Catalog Number: B!172
Format: Translucent red vinyl LP -- full-color jackets -- full-color inner-sleeves -- poly outer-sleeves
Speed: 33 RPM
Digital: Includes download code for mp3s
-----------------------------------------------
BloodLust! is very pleased to announce the release of the vinyl version of Chris Connelly's outstanding "Artificial Madness" album. This is the LP version of the CD that Relapse released in late 2011. "Artificial Madness" represents a momentous step in the progression of this very accomplished Chicago-based, Scottish-born musician, offering a suite of contemporary, heavy, high-energy rock songs that reveal measured lyrics paired with meticulously crafted songs. While Chris has certainly delivered beautiful records in the past, the maturity of this album may surprise some fans who have followed his prolific, diverse and rather hedonistic career in music.
Lyrically, the album offers a set of narratives that seem to accurately define a truly dystopian landscape, setting stories in invented locales, in which the inhabitants lead a dark, dehumanized and anxious existence. Stylistically, "Artificial Madness" sounds very modern, even as it draws from an arsenal of heavy post-punk music elements that Chris has built upon since the mid- to late-1980s, whether solo, with Ministry or Revolting Cocks, or with current and former members of Killing Joke and Public Image Limited.
This album also happens to feature numerous friends of mine. Perhaps Chris needs no further introduction, but his impact on the world of dark and heavy music, both in Chicago and beyond, should not be underestimated. And for those who think his "electronic" work is limited to the Wax Trax! style of industrial music – as if such as thing was that easy to classify – let me tell you about a very memorable 1989 show at Dreamerz, when Chris opened up for the still-new My Life With The Thrill Kill Kult, shocking (most of) the crowd with a vicious, assertive, straight-up power-electronics set. On a label-related note, Chris previously sang on the Plague Bringer "Burning Inside" CD single box set (B!155, 2010), an exclusive Record Store Day release that featured a cover version of a well-known song by one of his former bands, Ministry.

And for this album, Chris assembled a veritable who's who of heavy-hitters from Chicago. Sanford Parker (keyboards, engineering and production) is known from the bands Buried At Sea, Minsk, Twilight and Nachtmystium, and he previously played alongside Chris in The High Confessions. Sanford also recorded the forthcoming BLOODYMINDED album, "Within The Walls," and he recorded and played synth alongside me on the imminent Wrekmeister Harmonies album, "You've Always Meant So Much To Me." Will Lindsay (bass) is a good friend, who has also sat in on bass with Anatomy of Habit, while I have contributed live synth and vocals to Will's band, Indian. Will is also known for his work with bands including Nachtmystium, Wolves in the Throne Room and Middian. Dallas Thomas (guitar) is known for his band The Swan King and he also happens to be playing with the celebrated group Pelican, these days. His amazing guitar style and tone is unmistakable on this LP. Noah Leger (drums) has recently been helping out on drums with Anatomy of Habit and he is known from a number of diverse local groups, including Electric Hawk, Head of Skulls, Tight Phantomz, and Milemarker. Noah most recently joined the exciting Chicago group Disappears. Safe to say, I am really excited to be releasing Chris' record!
- Mark Solotroff, BloodLust!
-----------------------------------------------
- Engineered, mixed and produced by Sanford Parker at Engine, Chicago.
- Mastered By Collin Jordan at The Boiler Room Chicago.
- Design by Orion Landau.
- Design adapted for LP by Jonathan Canady.
- Related to Chris Connelly: Ministry, Revolting Cocks, Pigface, The Damage Manuel, Murder Inc., Fini Tribe, Pailhead, Acid Horse, The High Confessions

http://chrisconnelly.com/
-----------------------------------------------
Tracklisting:
A1: Artificial Madness
A2: Wait For Amateur
A3: Classically Wounded
A4: Cold Blood In Present Company
A5: Compatibility
B1: The Modern Swine
B2: Imperfect Star
B3: The Paraffin Hearts
B4: The Subjects
B5: The Goner
B6: A Career In Falsehood
-----------------------------------------------
Stream the album:
-----------------------------------------------
Select praise for the album:
YES! Chris Connelly's Artificial Madness was arguably one of the most overlooked records of 2011. Originally released on CD by purveyours of heaviness Relapse Records, Artificial Madness gets some serious hometown love in 2012 by Chicago based BloodLust! Records. BloodLust! has been steadily releasing outstanding records by the likes of Anatomy Of Habit, Sun Splitter, Arriver and Rabid Rabbit. We've dropped drooling praise on their previous releases and now to finally get our grubby hands on Chris Connelly wax has us over the moon to say the least. Artificial Madness is first and foremost a rock record, which it being released on Relapse might lead one to believe this is a metal release but Connelly eschews his time spent in such legendary industrial bands as Revolting Cocks and Ministry and instead plows straight forward into thick muscular post apocalyptic rock with his warming croon over top of some punishing rhythms and walls of guitar majesty; we're hearing echoes of Killing Joke, Wire and even some Public Image Limited tinges here and there, but like they put all those influences in a blender then blasted it out of a cannon. High octane, high energy dark jams from start to finish is what you'll get on Artificial Madness; after it's all said and done see what remnants of your mind are left. Connelly enlisted some of Chicago's finest to fill out his band of outsiders featuring members of Nachtmystium, Indian, The Swan King, and Electric Hawk giving Artificial Madness a walloping heft that is yet to be matched. Fans of Total Control, Pop 1280 and the paranoia-stricken sci-fi roster of Sacred Bones Records should definitely take note on this one. Mega Recommended.
- Permanent Records, Chicago
----------------------------------
To call Artificial Madness a "comeback" for Chris Connelly might be overstating the case. Some such as this critic were enthralled by the Scottish singer's first three solo records—Whiplash Boychild (1991), Phenobarb Bambalam (1992), and Shipwreck (1994)—only to gradually drift away as Connelly indulged an ever more diffuse artistic muse inspired by the avant-garde, latter-day work of his hero, Scott Walker. But this new release from the former member of Ministry and Revolting Cocks is a most welcome development.
Artificial Madness is driven by a shit-hot, driving rhythm section and some alternately grinding, chiming, jagged, and shoegazer-like guitar textures (the backing unit includes members of metal doomgazers Wolves in the Throne Room and Minsk). The music takes up where one might have expected Connelly to head around the time following Phenobarb Bambalam, the record in his oeuvre closest to this one. To speak plainly, Connelly rocks out here, kicking ass like he hasn't allowed himself to do in years, and the result is liberating for both the singer and his audience.

Inspired by a loose theme based on the alienating effects of modern technology, Artificial Madness takes off like a 747 with the pounding, pulsating title track, which then morphs into the even more intense "Wait For Amateur," the best 1-2 punch this writer has heard on any album this year. Throughout, Connelly draws upon various vocal personae from his career to this point: he alternates a David Bowie-esque croon with a Scottish-brogue inflected, spoken-word approach on the shifting, doomy "The Paraffin Hearts" ("the only way to tell us apart / you have to take a flame to our paraffin hearts/ And whichever one decides to ignite/ Decadence won't make it right"). On the blazing "The Goner," Connelly briefly evokes his Ministry/Revolting Cocks days with some dirty, distorted vocals.

With bands like Public Image Limited, Killing Joke, and Connelly's own Damage Manual as sonic reference points, excellent tracks like "Classically Wounded" and "Compatibility" evoke the early days of alternative music while simultaneously sounding fresh and inspired. "The Subjects," meanwhile, starts with a poppy electric guitar riff that soon morphs into a full scale punk rock assault. The more romantic rocker "Imperfect Star" would have sounded at home on Shipwreck, while "The Modern Swine" seethes with the singer's dislike for our overly wired world.

Overall, Artificial Madness is an exhilarating ride. If you ever loved the early solo work of Chris Connelly, but thought that guy was gone forever, think again. This one will thrill you and make you care once more.

- Johnny "Gutter" Walker
----------------------------------
Fans of local-based Wax Trax! Records and Revolting Cocks-era Chris Connelly haven't had much to latch onto in a bunch of years music-wise. Folks up in West Town that have been visiting the Scottish transplant (knowingly or not) at the Reckless Records store he manages can usually find such vintage Connelly discs. But now twenty years have passed since his nearly flawless debut Whiplash Boychild was unleashed. I had wondered whether were we ever to here industrial's answer to David Bowie again. Well, get ready to rock out with your, well, you know. The tempo and blood gets pumping on the sensational "Classically Wounded,". That track is maybe the best song has ever done, and the album is his most dynamic and special, at least, With other standout tracks like "Cold Blood And Present Company", "The Goner", and the positively wonderful "Imperfect Star", Connelly reinvents himself by taking a fresh approach to the past. The approach is simple but louder than he has been in ages. The strangest part in all this to me is that Artificial Madness is being released on Relapse Records. It does not fit in with their roster of metal heavies. But based on that, I'm willing to bet this is the one of the most diverse albums in their catalog. I know I have thoroughly enjoyed it.
- David Musto, The Big Takeover
----------------------------------
The one and only time I had the privilege of watching Chris Connelly perform was in 2002 or 2003 at The Roxy in Boston when he was again touring with Pigface. He opened the Pigface set by coming out alone and doing an acoustic cover of his former band The Damage Manual's "The Peepshow Ghosts". If I wasn't a fan of his already, that opening song would've sold me for sure.

If you're already a fan of Mr. Connelly then Artificial Madness, his latest, is sure to excite you. It manages to encapsulate all that he is in a nice little 40 minute package. There's elements of Ministry and RevCo, his solo releases, and especially the aforementioned mighty Damage Manual.

Artificial Madness is another one of those crazy albums where the sum of all the people just don't add up on paper but after hearing the finished output, the listener is pleasantly surprised. You have the former singer of industrial juggernauts Ministry, Revco, and Pigface paired with a backing band featuring members of Nachtmystium, Wolves In The Throne Room, Minsk, and Indian and an album produced by Sanford Parker who's also a member of some of the already mentioned bands. And it's on Relapse. Is it a metal album? Not really. Don't get me wrong, it's heavy but to simply categorize it under one genre would be a great disservice to Artificial Madness and the artists who worked so hard to make it what it is.

So what is Artificial Madness? It's an album that transcends metal. It transcends industrial. It transcends hard rock. It's…something else.
Madness starts off with swirling guitars and Connelly's familiar croon easing you in to a false sense of security until that hypnotic chorus reminds you of all those nights you stared at the ceiling wide awake as that guy who sang on Ministry's "Cannibal Song" used his voice as a weapon to drive you mad. Or was that just me?

"Wait For Amateur" sounds like some throwback between old U2 and new school brit-rock a la Maximo Park. "Cold Blood In Present Company" drills you with a fuzzed out bass for 30 seconds before Connelly in his best Bowie swagger massages your ear buds. "Imperfect Star"'s subtle electronics accent the cacophony of the guitar and cymbal crashes just right. The screaming wail and industrial backbeat of "Classically Wounded" might be the song that sums up all of Artificial… though with its' driving song structure, incredible riffage, and Connelly's voice that is, to this day, one of the most unique and distinct out there still.

Artificial Madness is truly a treat for old school fans. It takes everything that's made Connelly great over the years and takes it to the next level. It goes above an beyond continuously and should appeal to fans of everything he's done so far. With a duet on Meshell Ndegeocello's latest album Weather in the can as well, the time is definitely right for Chris Connelly to be in the public's hearts and minds once more.
- Metal Monday / Pop! Blerd
----------------------------------
Before I can start reviewing the latest album from Chris Connelly, I have to share something with you that completely set the scene for me. Two nights before I got the album, I had a dream that I was writing a review of the album in a very large old Victorian style home without windows. It was dark and rainy outside, giving way to a very chilly interior, although I didn't seem to mind. I was sat at a very old, dilapidated desk in front of a notepad and pencil and I was staring at a giant bowl of candy setting on the desk. Now, I'm not sure what the candy has to do with anything, but the rest of the setting really seemed to fall into place once I heard the album. The dream itself had this sci fi feeling of impending doom yet an overwhelming sense of excitement and adventure. Once I put pencil to paper, I couldn't stop writing.
This is exactly what happened once I listened to the album. I was overcome with this inability to narrow it down and only write a simple review. I was transported both backwards and forwards in time (despite not owning a TARDIS). So how do I narrow this all down and make this review even remotely to the point without going on and on and on and seeming a bit too overenthusiastic? Well, I'm going to try. Bear with me.
My first impression of Artificial Madness, the 15th solo album from Chris Connelly was one of being thrown back to some of his older work. It's heavier, more ragey and has a poetic backbone. It is very different than his last few works and, not that I didn't appreciate the last few works, but I was definitely ready for this from him. After seeing him perform with Luc Van Acker and Paul Barker in April at the Wax Trax 33 1/3 Anniversary in Chicago, I was so ready to hear him with something big and heavy again. This is it!
From the get go, the fact that it is heavier is obvious. The title track crashes in without warning and throws you into a frenzy of guitars, words and beats. There is a steadiness of the beat that aids the feeling of being warned that comes through on this album. It is as though it is beating out a message to you, telling you to beware. Interestingly enough, Chris had mentioned in an interview that the third song, Classically Wounded is a cautionary tale. I know the author or artist has their meaning behind their work, but I think the audience also takes what they get out of it and to me, this entire album sounds like a cautionary tale. In the case of this track, it feels as though it is warning us that the very thing that propels us to be who we are can destroy us.
It is the whole album though. The tone. The atmosphere feels so much like a film. Like a film that is warning us about some impending apocalypse and the dystopia we are destined to live in afterward. While listening to it, I could see a film playing in my head that was paced in such a perfect way that it maintained a sense of urgent excitement, a dangerous game of chance and car chases through dark, damp desolate city streets. I don't think an album has caused my heart to pound nearly as much as this one has in…well, forever. Chris Connelly has a way with words that has yet to be beaten in my book. When it is combined with the intensity of rock guitars and frantic synthesizer panic, you can't stop listening. You want to know what happens next. I don't think he meant for this to be a concept album, but I can honestly see a story played out in my mind with every track.
Track six The Modern Swine channels David Bowie both stylistically and vocally, with a primal futuristic sound warning us about what we are doing to ourselves and what we are about to become (or maybe some of us have already become). The poetry of The Paraffin Hearts brings a level of emotion to the record that softens us up just in time for The Subjects to build us up to an explosion of angsty guitars spiraling out of control and leading directly into The Goner, where we end up feeling a fear almost like one of being outnumbered and vulnerable. By the time this album ends, I feel like I've been on a rollercoaster ride through a post-punk apocalyptic world of road warriors and bad guys and I love it. I get back on and ride again.
This album is so aptly named, Artificial Madness, and I mean that in a very good way. It takes you into a world, experiencing this art not just with your ears but with every emotion and sense you own. Take this ride. I'm not kidding.
- Twisted Peppermint
----------------------------------
When Chris Connelly first announced the upcoming release of Artificial Madness back in May, he promised the album would be a lot harder, acknowledging his former band Ministry in certain ways.
While perhaps equally well known for his role in another Al Jourgensen-backed band, The Revolting Cocks, Connelly's solo career has always seemed mired down in that it was never hard enough compared to his "formative years." But this album proves that his formative years are not behind him.
For years, he has continually progressed as a poet and songwriter, among the most underrated on the alternative scene as he drops in and out of other bands and side projects. In fact, even when his music has taken a turn toward folk, Connelly has always seemed to cover more ground as a musician on his own.
Artificial Madness has everything it needs to become essential.
His upcoming album, Artificial Madness, is no exception. The songs are harder, picking up hints of post-modern rock indicative of a traditional four-piece lineup but with pop and post-punk undertones in his delivery as a singer. As a lyricist and songwriter, he wants bands to ask harder questions. He does.
The album is meticulously crafted, put together and produced by Sanford Parker, who is quickly becoming one of the most sought-after producers for underground music. He was the right fit to work on the album, being able to balance consistency and chaos throughout, much like he did for Yukaza.
It probably didn't hurt that he has always been conformable with Connelly's lineup, having worked with them before. They include guitarist Dallas Thomas (Swan King), bassist Will Lindsay (Nachmystium), and Noah Leger (Tight Phantomz). Together, this band sounds like they've played with Connelly for years.
- Liquid Hip
----------------------------------
The blasting electronic rock rip that begins Artificial Madness shows that, regardless of Chris Connelly's explorations over the years toward the quiet and contemplative, he can still happily rock out when he chooses too -- in some ways, his Fini Tribe and Ministry/RevCo years have never left him, even while he perfected his beautiful croon of a voice. One listen later in the album to "The Modern Swine" and its fast-paced motorik clip shows just as clearly that those Krautrock roots that David Bowie celebrated in his own fashion not only still have a relevance but, in Connelly and company's hands, have a just as enjoyable energy still. The fact that the title track can shift into "Wait for Amateur" almost without losing a beat, and while sounding a bit like the same song, helps establish the immediate feeling throughout, but Connelly also keeps an ear out for variety and sudden striking moments. It can be the chiming slash of the lead guitar on "Compatibility," a cover of a song by Visitors, an early Connelly inspiration from the immediately post-punk days; or the conclusive wooze "A Career in Falsehood," a reverb-heavy (on the vocals) and zoned-out crunch; or something else again. If anything, there's a weird timeliness to this kind of post-punk aggro return -- "Classically Wounded" could almost be a royally pissed-off early U2 number musically, minus Bono-esque bleatings -- while the brisk jauntiness and tight, nervous vocal delivery of "The Subjects" and the slightly slower feeling of "The Paraffin Hearts" are two other strong moments on a great blast of a record.
- Ned Raggett / Allmusic.com
----------------------------------
It's not like he's been gone all this time.
Artificial Madness , when it was released in late 2011, was Chris Connelly's first album in one year. As a matter of fact, he's released a new album with his name on it in every calendar year since 2007. The difference between this album and those albums, however, is the approach. These are songs, songs with huge, screaming guitar parts and loud, thumping drums, songs that sing of exile and madness and terror. These are songs that begin out of nowhere and end just as suddenly, songs whose only subtlety lies in Connelly's delivery of his typically literate lyrics.
In other words, it's bound to remind people of Ministry, or Revolting Cocks, or Pigface.
Despite a sizable solo oeuvre that has very little to do with any of those bands, Connelly tends to be most often associated with them. It's not even that he was a particularly large part of Ministry or Pigface, nor that Revolting Cocks were ever anyone's idea of a serious band, it's just that his contributions to those bands are so varied and memorable as to be some of the most memorable moments of those bands' respective discographies. That he would create an album that, on the surface, could be so appealing to fans of those bands bodes well for the exposure of the album, and it's worth the listen, not only for Connelly's vocals but for the impressive instrumentation he has surrounded those vocals with.
While the one-two punch of the title track and "Wait for Amateur"—nearly indistinguishable in their use of oom-pah beats and chugging guitars—gets things off to an energetic start, it is the soaring "Classically Wounded" in which the album begins to soar. Dallas Thomas' guitars get plenty of play here as they fill in the silent spaces with searing solo work, effectively breaking up Connelly's tale of, as he tells it. "a violinist…impaled on his/her own violin bow." It's told in more abstract terms than that, of course.
While the album never flies higher than that track, it continues to be a consistent listen throughout, full of big guitars and high-tempo drums, occasionally slowing down to make a statement about something or other. It is generally these slower moments that make the most lasting mark on the listener. Their slower tempo doesn't lessen the volume of the guitars or the intensity of Connelly's poetry; if anything, slowing down for a bit allows Connelly to show off a singing voice that's two parts David Bowie, one part Ian Curtis, though admittedly nowhere near the level of those two legends. "Imperfect Star" is a lovely little tune that could have been a B-side of Bowie's Reality, loud guitars and a repetitive melody that actually come together to offer a pleasing drone effect. Where it doesn't quite work is in the largely spoken word "The Paraffin Hearts", where Connelly's understated delivery veers just a little too close to boredom.
Closing with "A Career in Falsehood" is a strong statement; where many artists would mitigate an album with so much despair with a closer that offers hope. Connelly instead laments the fakery of humankind. "The folding of the letters / The framing of an outsized ghost / The sinking of salvation / You're getting far too close," he speaks, his words coldly and mechanically echoed at every turn. It's a harrowing slow-burn of a finish, and it's effective enough to make you want to start the journey of Artificial Madness again, perhaps hoping for a different ending to the tale the next time around.
There are no outright classics on the album, though "Classically Wounded" comes close. It is an obscure little thing with an appealing sheen that never quite lets its guard down long enough for the listener to really connect with it. Still, Connelly's approach is consistent and intriguing, and it really is the perfect entry point for those listeners familiar with his previous associations to see what he's been up to of late. Artificial Madness screams, it squeals, it drowns in despair, and it does so with a semblance of grace.
- Mike Schiller / PopMatters
----------------------------------
Chris Connelly has been a staple of the Chicago music scene since the late 1980′s when he moved here to do time with Ministry and Revolting Cocks after leaving the band he was in prior to that, Fini Tribe. Since his relocation he padded his musical resume with some really impressive work with Pigface, Murder Inc., his own solo work (his Whiplash Boychild album on the Wax Trax label ranks among my favorite albums that label ever released), and most recently with The High Confessions. Not one to rest on his laurels, he has returned once again with a new solo album.
Artificial Madness features Chris' best songwriting since his debut solo album and is a breath of fresh air with its familiar influences. This is not a return to industrial rock music for Connelly, nor is it an acoustic album. Artificial Madness is firmly rooted in the punk/post-punk category and his writing and singing style is a perfect match for this style of music. The title track starts off the album and it is a fast-tempo number with an early Pil/Killing Joke vibe. It has loud guitars and a driving beat and Chris' vocals are melodic and smooth as butter. He always had a great singing voice and this time out is no different. When the chorus kicks in the guitars get more aggressive as does his singing. It's an interesting contrast and quite catchy. "Wait for Amateur" is one of the best songs on the album and is another fast tempo number with early PiL inspired angular guitar lines. Clocking in at two minutes the song leaves you wanting more and will earn multiple repeat listens.
"Cold Blood in Present Company" is another standout with its meaty bass line, catchy synth and melodic verses that really show off Chris' singing voice which at times is Bowie-esque. "Compatibility" sounds like a lost PiL outtake that was recorded between their first two albums. The rest of the album features mostly Killing Joke/PiL influenced post-punk/punk with a few more melodic numbers and every song on this thing is a real gem making for an extremely solid and satisfying listening experience from start to finish.
It's great that Chris Connelly is still writing and recording music, it's even better that not only hasn't he lost the magic, but his magic has grown stronger than ever with Artificial Madness which is one of the surprise best albums of 2011 and required listening for any music fan with at even a modicum of good taste.
- The Punk Vault
-----------------------------------------------