B!171 Sun Splitter "III" LP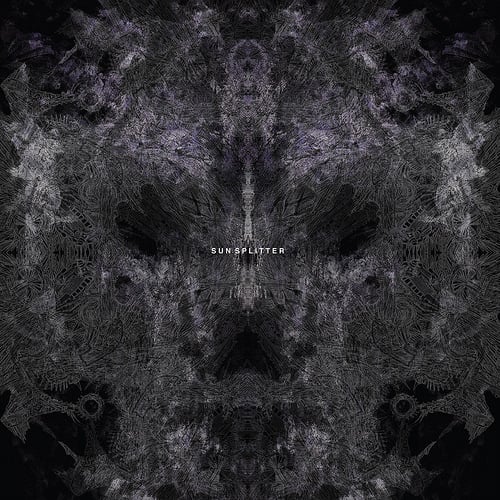 Catalog Number: B!171
Artist: Sun Splitter
Title: "III"
Format: LP, White vinyl; Edition of 500
Includes download code for digital files hosted by Bandcamp.
(STREAM BELOW)
Chicago-based Sun Splitter has created a monolithic hybrid of doom, industrial-metal, drone and noise with this new 50-minute, five-song collection for BloodLust!
This LP is closest in style to the ancient "Thanatos Descends" CD (B!013, 1996) by Dead World, and fits very nicely in the heavy Chicago scene with Anatomy of Habit, Rabid Rabbit, Arriver, The Atlas Moth, Pelican The Swan King, Oyarsa, Russian Circles, Locrian, Indian, Beak, etc.
The heavy drum machine-driven foundation, dark electronics, layers of distorted-yet-melodic guitars, and echoed-out vocals will appeal to fans of doom, sludge, psychedelic, experimental noise and forward thinking metal groups such as Jesu, Neurosis, Nadja, The Human Quena Orchestra, Godflesh, Halo, (early) Pitchshifter, Sonic Violence, (early) Scorn, Dead Times, Floor, etc.
Tracklisting:
A1: "Eye Of Jupiter" (5:46)
A2: "Parasitic Machine" (10:54)
A3: " The Serpent's Golden Death" (7:12)
B1: " Into The Broken Lands" (7:56)
B2: " Two Cold Oceans" (16:00)
Credits:
Recorded by Matt Talbott at Great Western Record Recorders during a blizzard in January 2011. Additional tracks and mixing were done at Earth Analog in January 2012, also during a blizzard. Mastered by Collin Jordan at The Boiler Room. The instruments used on this recording were electric guitar, electric bass, drum machine, tube amplifier, piano, microphone and electric organ. All songs performed, written and arranged by Sun Splitter. Cover art by Anthony A. Dunn. All Rights Reserved Double Happy Panda Right Reservers.
Personnel: Anthony A. Dunn, Jacob W. Essak, Francis C. Hays
Reviews:
Anti-Gravity Bunny:
How these Chicago dudes aren't as well known as Locrian is beyond me. Sun Splitter have just as must genre blending as Locrian, just a different blend. They've got this incredible black industrial psych doom thing with some dark ambient noise/drone and even a little HANL style gloomgaze tossed in. I think III is their first vinyl (limited to 500, white, sexy, etc) and it's monolithic & pure fucking evil. Seriously, this is just monstrous in every way. The riffs are skull crushing, a wall of reverb and distortion sounding like napalm melting your core, drum machines hitting harder than any human could, explosive blasts that level cities, with an abusive assault of rapid-fire fury for the second half of "The Serpent's Golden Death" where the individual hits coalesce into a waterfall of insanity, static vocals that roar their way to the surface, guitars that chug & rattle, at home only in Hell's scorched valley, crusted under the black sun. These guys get in a groove and don't let up until they've reached total devastation, the drum machine locked in a loop, sealing their fate as endless riff demons. If you need some fucking heavy in your life, this is where you should be looking. This is the fucking best and most original metal. And with killer artwork by band member Anthony A. Dunn, you would be doing yourself a major disservice by passing this up.
CVLT Nation:
I'm covered in sun right now, but my whole world is a bright grey, because I'm blasting the new Sun Splitter record entitled III, out now on BloodLust. To say that I'm excited about this album would really fucking be an understatement! Sun Splitter have created a record that will be spun at least twice a week for the rest of my existence on this planet. This collection of songs will open doors in your imagination that you didn't know existed. Play their track "The Serpent's Golden Death" and you will hear pounding dirge that will pick you up off the earth and have you looking into the eyes of your eternal madness. The thing that is so radical about the way this band writes songs is that they are able to bury harsh noise in a beautiful grave where deranged sonic flowers grow. Sun Splitter are the perfect balance between ancient organic sounds and machine-like audio rain that crashes against your skull. It's not about what you are hearing on the surface – this band's magic is hidden under layers of ethereal feedback and aggressive distortion. They are brilliant at conjuring up whirlpools of cryptic rhythm. They weave melody into their own tapestry of angst that I want to cloth myself in. The closing track, "Two Cold Oceans," is a 16-minute-long stellar example of how this band manifests magic. The riff in this tune is catchy as fuck, but it's the way that the song melts into a lake of moving noise that keeps your attention. I really don't care what kind of music you are into, Sun Splitter should be heard, and when you are done, tell a friend so that they can share the knowledge of this killer band! Even this review can't speak to the heights that Sun Splitter can take you – on the real, they are my brand new high.
Hammer Smashed Sound:
Let it be said that Chicago's Sun Splitter is a really good band. And as really good bands do, they have continued to evolve and grow their sound as time has passed. A relatively young band whose first releases came out just last year, it's still clear that they have worked hard to define their sound and enhance their songwriting. 2011's 7" split with Bridesmaid and the II cassette on Land of Decay saw the band emerge with a heavy industrial-metal sound that was familiar but not easily traced back to any one influence or sound in particular. The band's new LP, out now on Mark Solotroff's BloodLust! label, sees Sun Splitter continuing with that same sound, yet taking it in a darker, heavier, and harsher direction.
The 5 songs on this LP, which make up almost 50 minutes of music, are blistering, droning, heavy pieces of industrial metal that sound like so much more than just the typical release from that sub-genre. These songs are aggressive yet well-written hymns to darkness and intellectual, psychological violence. Drenched with reverb and droning feedback, the songs are still complex enough and rich in melody. The psychedelic elements can be overwhelming, but they provide a another layer to the band's dense, full sound that is almost kraut-ish at times. The dark sonic bliss that this record dives into is incredibly heavy, and it feels like there is so much going on that III could in fact be in the process of splitting the sun.
This is also an album that is likely to grow on you. While that can be said of the band in general, I've found it to be especially true for this record; at first it comes across as good, but not great - but you still want to go back after that first listen because you know there's more to it, more to be found and explored. And that proves to be very true. As I said, it's a more complex record that they've done before, and that really won me over.
Stream the record: