B!170 Arriver "Tsushima" LP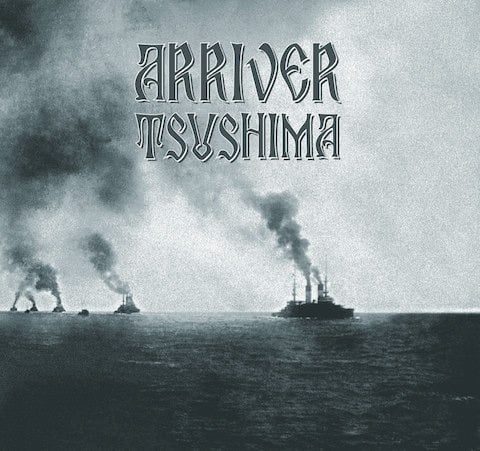 Artist: Arriver
Title: "Tsushima"
Format: 150 gram black vinyl LP housed in a seven-color silk-screened gatefold sleeve with color insert and dropcard
Catalog Number: B!170
Genre: Progressive Metal / Thrash / Technical Death Metal / Doom
In 1904 the Japanese and Russian navies met in the Sea of Japan. This was the climax of the Russo-Japanese War, but only one point in the Japan's march to become the most dominant military force in Asia. Barely 50 years prior, Japan had been a feudal, agrarian society, willfully isolated from the encroaching world. Now it had provoked one of the world's largest, if out-dated, navies to circumnavigate Europe, Africa and Southeast Asia to do battle. A year's journey ended 12 hours after the Japanese spotted the Russians. The Russian Navy was destroyed and 4000 sailors dead. Japan was the uncontested ruler of East Asia. On TSUSHIMA, ARRIVER tells this story.
Veterans of the Chicago rock scene, ARRIVER has both the chops and versatility to pull off this epic concept album without collapsing under what could be a portentous slog in less capable hands. Deftly weaving myriad influences of Metal's subgenera, as well as rock's more interesting and abrasive edges, TSUSHIMA uses historical narrative as a basis for its diverse song cycle, each composition standing on their own while contributing to the larger story. The stately fanfare of "Winter Palace War Council" leads to chaotic grind in both "Togo, Son of a Samurai" and "Dogger Bank". "Around the Cape" builds over a churning, massive riff while the relentless precision "Dark Clouds Above the Fleet" relates the abject misery of life at sea. "Singapore" pays tribute to the Russians' successful journey around the globe followed by the equally ambitious, if darker, "Tsushima: Trilogy". Finally, the unabating "Quadrogy" serves as a fitting epilogue.
ARRIVER has employed narrative in their previous releases: the debut album Vanlandingham and Zone (2006) created a mythology based on randomly generated text from voice recognition software, the Simon Mann EP (2009) retold the true-life story of an ex-mercenary's failed coup attempt in Equatorial Guinea, and Center Down (2010, 7" split w/ Chicago comrades The Swan King) tells the story of Nantucket Whalers cast adrift in the Pacific, forced to cannibalism in order to survive. Despite the carnage and crushing defeat, Russian Admiral Rozhestvensky became a hero to the people and the gestating revolution--a man who put his duty and honor first. His survival became an act of defiance in the face of the Czar's arrogant, bloated aristocracy. The improbable journey of the Russian fleet was a victory unto itself and is the main driving force of TSUSHIMA.
TSUSHIMA is available from BloodLust! on March 13 on 12-inch vinyl (with incredible packaging designed and screen-printed by Crosshair and featuring an illustration by acclaimed artist Tom Sciloi) and digital download.
Dan MacAdam- Guitar & Vocals
Rob Sullivan- Bass & Vocals
Dan Sullivan- Guitar & Vocals
Joe Kaplan- Drums
ARRIVER formed in summer 2004 in Chicago, Illinois, by Dan Sullivan (guitar) and Rob Sullivan (bass) (both ex-contributors to Songs: OHIA and Magnolia Electric Co.), and Dan MacAdam (guitar/ ex-Viza Noir). Over time, they honed a sound that seamlessly blends classic and modern strains of rock, metal, and prog into a uniquely vicious hybrid. With the amicable departure of Bill Murphy, ARRIVER brought in long time comrade-in-rock Joe Kaplan (ex-Viza Noir) to drum. With Joe, ARRIVER began pushing tempos and time more aggressively. Vocals evolved to match and what has emerged is a decidedly harder sound. ARRIVER shows confidence in their craft and willingness to bulldoze sub-genres of metal and hardcore.
Please note that Dan Sullivan also plays guitar in Rabid Rabbit, whose newest LP, "Czarny Sen" (B!169), was released on BloodLust! in late 2011.
Tracklisting:
A1:Winter Palace War Council (4:29)
A2: Togo: Son of Samurai (4:01)
A3: Dogger Bank (1:56)
A4: Around the Cape (5:05)
A5: Dark Clouds Above the Fleet (1:39)
B1: Singapore (6:22)
B2: Tsushima Trilogy (10:32)
B3: Quadrogy (6:48)
Links:
http://www.arriverchicago.com/
http://www.facebook.com/pages/ARRIVER/199232604256
http://www.myspace.com/arriver
Full artwork/layout visible here:
http://www.arriverchicago.com/ARRIVER-TSUSHIMA.pdf
Tsushima by ARRIVER