Iugula-Thor "The Wheel Of The Process" 12-inch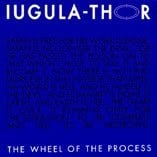 Iugula-Thor's dynamic debut. Pre-power-electronics, pre-mutant metal. Cocksure ritual music for industrial practitioners.
Note: This is remaining stock from an old mail-order catalog. Records are new/unplayed but sleeves have some minor corner creasing from original shipping. Covers are really more purple but they show up blue in photographs for some reason (magick?).
Label: Minus Habens (Italy)
Catalog#: MHR 008
Format: Vinyl, 12", 45 RPM
Released: 1992
Tracklisting:
Wheel Side
A: I. N. R. I. (Iugulans Necro Rex Insanorum) (9:56)
Process Side
B1: Propeller Sodom Lucifer (8:01)
B2: Pigskull Loudspeaker (5:01)