B!169 Rabid Rabbit "Czarny Sen" LP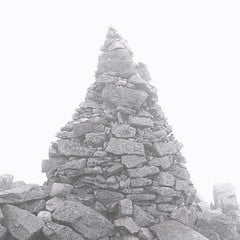 OUT NOW!
Black vinyl records are housed in heavyweight metallic silver on white pro-printed LP jackets.
"Czarny Sen (BloodLust!), the second full-length from local quartet Rabid Rabbit, has been long awaited around these parts—Reader music editor Philip Montoro wrote back in August about how great the album is. The double-bass-guitar attack has always given their doomy weight a grave-deep foundation, and their newest member, guitarist Dan Sullivan (Arriver), brings a spectacular, nimble style that distills the whole history of heavy music into a crisp palette... I'll match them up against any other avant-doom merchants in the world." - Monica Kendrick / The Chicago Reader
Rabid Rabbit hails from Chicago's west side, East Garfield Park, a beautiful, run down neighborhood populated with survivors and working folks.
Rabid Rabbit itself is comprised of survivors and working folks, veterans of bands that embraced rock's more abrasive boundaries. The band emerged on the Chicago Doom scene a few years ago, unapologetically throwing down a raw, stripped down sound that stood out for its attraction to noise and psych rock, anchored by brutal low end sludge. At its core is wife/husband team Andrea Jablonski and Mike Tsoulos playing bass and drums respectively. Later joined by Arman Mabry (bass) and Dan Sullivan (guitar), the sound both thickened and expanded. As Andrea's vocals took on a greater role, Rabid Rabbit's sound simultaneously became more unclassifiable as it developed more character.
"Czarny Sen," Rabid Rabbit's second full-length album (and first with new guitarist Dan Sullivan), captures the band's sound in five songs, using psych, noise, and improv to temper heavy doom metal and sludge. "Eclipse" slowly unfolds around an unstoppable, meditative riff, tied together with vocals chanted in Andrea's native Polish. The dark landscape of "Goliad", alludes to the violence associated with its namesake, a Texas town that was the scene of a massacre in the 19th century. "Suicide Song" inserts the lyrics from infamous torch song "Gloomy Sunday", along with screeching saxophone, rattling percussion, and growled vocals in a 12 minute epic. "Land of the Glass Pinecones" completely reimagines a lost hit by 80s postpunkers Human Sexual Response, supplanting the original's percussive shimmer with a giant, evil riff. Finally, the pagan incantation of "Raven Man" uses bristling slide guitar to build to a ferocious climax. Joining the band intermittently on "Czarny Sen" are heavy hitters from Chicago's noise, metal, and free jazz scene, includingMark Solotroff, Dave Rempis, Bruce Lamont, and Michael Zerang, earning Rabid Rabbit the sometimes accurate label of "improvi-doom."
* To date, Rabid Rabbit has performed alongside the likes of Melt Banana, Thrones, Monarch, Yakuza, Grief, Unsane, Wolf Eyes, Jucifer, Stinking Lizaveta and more, and will be announcing upcoming regional live dates in support of their new album coming soon.
Tracklisting:
1. Goliad
2. Eclipse
3. Suicide Song
4. Land of the Glass Pinecones
5. Raven Man