Anatomy of Habit "Black Openings" Cassette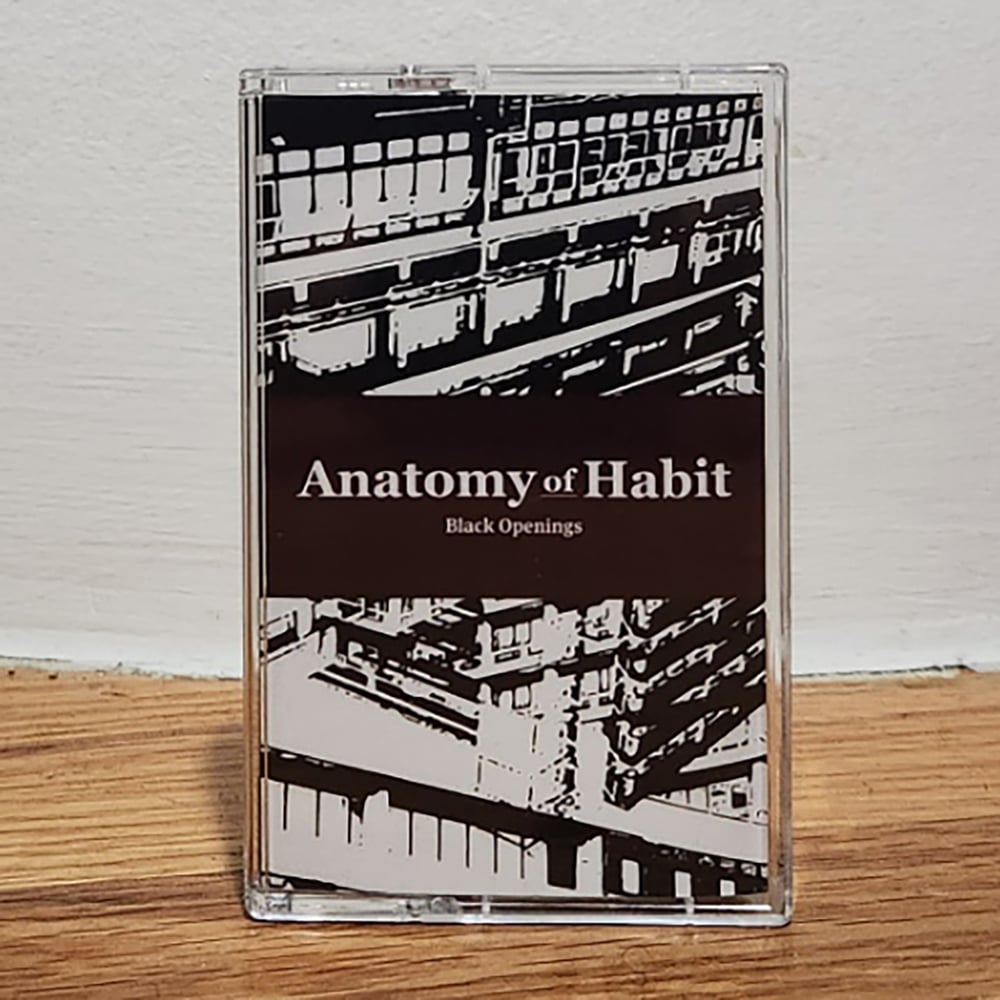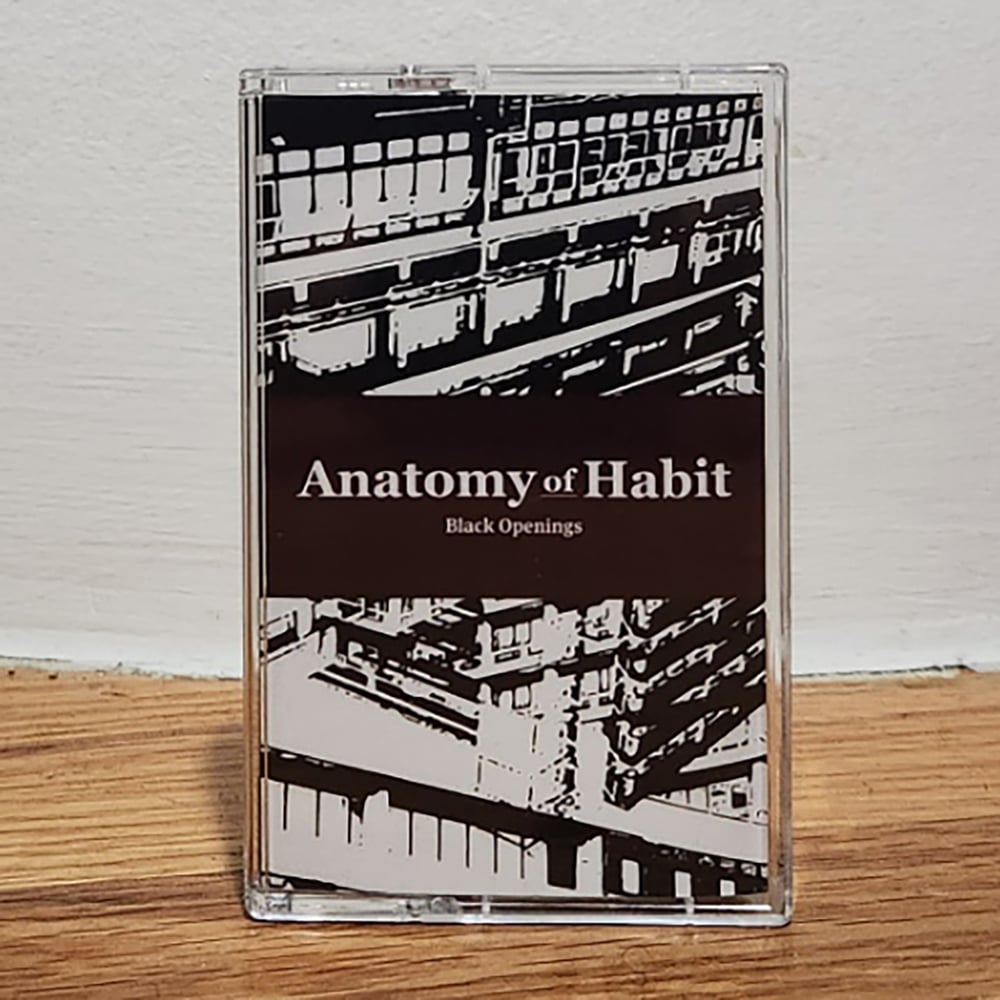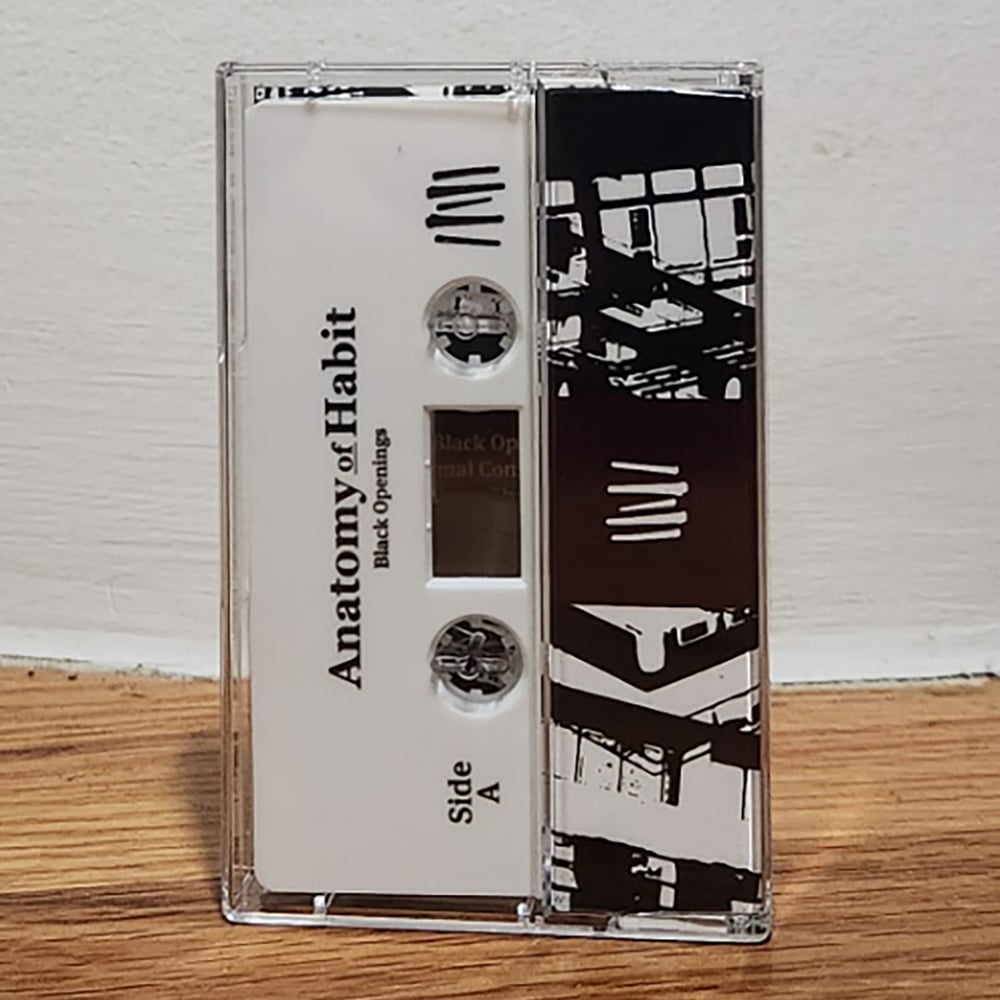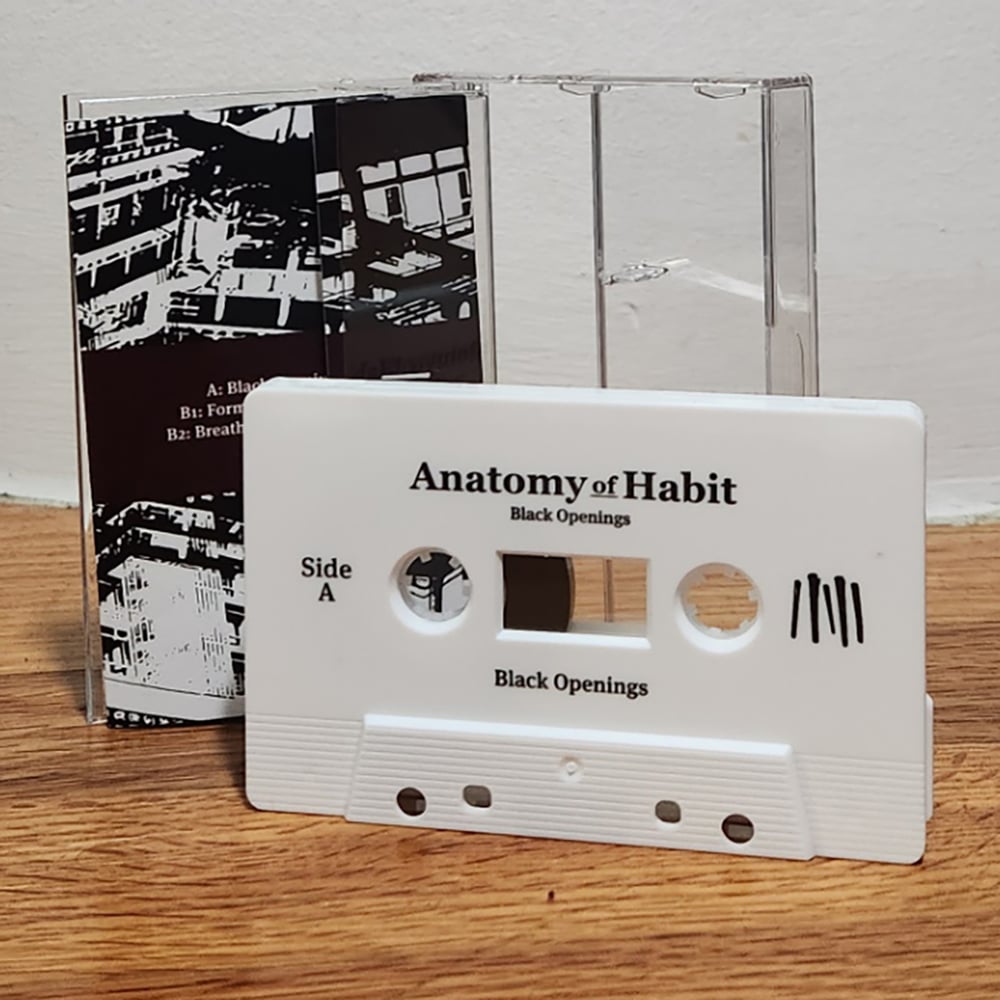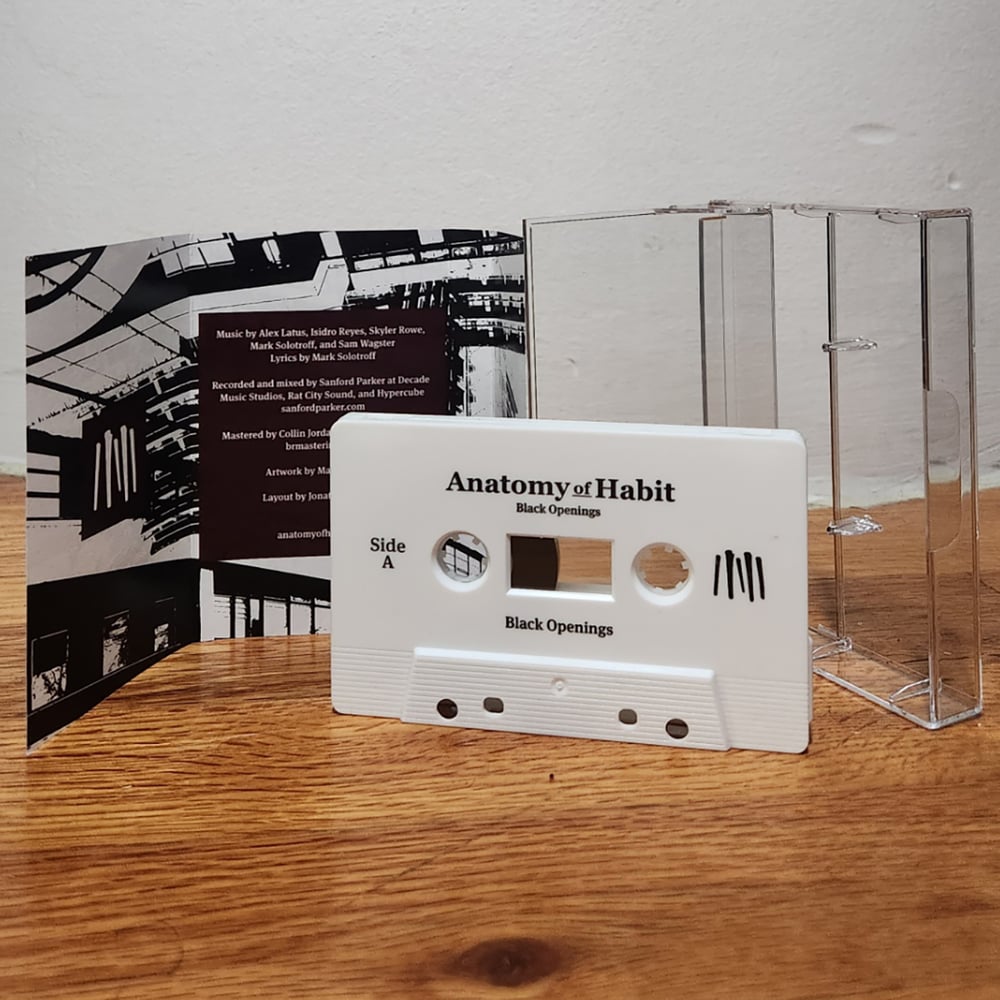 Cassette packaged with a 4-panel color j-card with artwork by Mark Solotroff and layout by Jonathan Canady. White cassette shells imprinted with black graphics. Sealed in poly sleeves with black circular stickers.
The members of Anatomy of Habit are excited to announce the release of their fourth album, "Black Openings," on Friday February 24, 2023. It's the follow-up to their 2021-22 album, "Even If It Takes A Lifetime."
The band formed in Chicago in 2008, and they've been described as a hybrid of doom metal, post-punk, death-rock, early-industrial, psychedelic, and shoegaze. Although they've experienced significant membership changes since forming, today's band, which includes Alex Latus (guitar), Isidro Reyes (metal percussion), Skyler Rowe (drums), Mark Solotroff (vocals), and Sam Wagster (bass + lap steel), represents their longest-standing and most prolific lineup. The band credits their treasured chemistry to their intertwining histories as friends and collaborators. Rowe and Latus have made music together since they were teenagers, growing up in Indianapolis' heavy music scene, while playing in the band Still. Rowe and Wagster create sweeping, pastoral instrumental music together in Mute Duo. Reyes and Solotroff are old friends who've played together for many years and they continue to record and perform in both BLOODYMINDED and The Fortieth Day. This deep connective tissue contributes to what the band describes as consistently effortless writing sessions and innately unified live performances.
They recorded this album with Sanford Parker, who has been working with the band in the studio for over a decade, including on their 2014 album, "Ciphers + Axioms" (Relapse). Parker also handled mixing duties. Collin Jordan (Boiler Room Mastering) took care of mastering, as he's done with two previous albums for the band. Like their last album, "Black Openings" includes three songs. The opener is the title track, which will align with what some people think of when referring to an archetypal side-long Anatomy of Habit song. It is built from three distinct movements that range from a calmer opening section, to an extended atmospheric instrumental passage, to an escalating mass of pure heaviness. "Formal Consequences" starts of the B-Side and it introduces greater shimmer to the band's sound, with Solotroff's voice submerged in a vast swirl of guitar atmosphere. "Breathing Through Bones" closes the album and it is a mournful song that links back to earlier Anatomy of Habit compositions like "After The Water" and "The Decade Plan," but here, the group ups-the-ante with a vein of taught, slow burning tension. Along with the band's core instrumentation, listeners will recognize piano, organ, analog synth, and vibraphone, similar to the array of sounds on "Even If It Takes A Lifetime." Thematically, the album continues to elaborate on Solotroff's expressions of love and loss, the abstracted and vanishing self, and complexities within the creative process. It further explores the concept of obliteration and it propels the idea to a dreadful new terminus point. The concept of the inner drive that keeps pushing a person forward, which Solotroff explored on "Even If It Takes A Lifetime," takes on a new meaning here, when the harrowing black hole of the title track opens up and swallows you.
The album is being released on LP, CD, cassette, and digital. The LP was pressed on heavyweight white vinyl by Smashed Plastic in Chicago. It is housed in a jacket and a printed inner sleeve, both of which feature artwork created by Solotroff. The LP also includes a large folded poster featuring the full album artwork, printed in black ink on white newsprint and measuring 22.75"x33". The CD is packaged in a six-panel color digipak, like all previous Anatomy of Habit CDs. The cassette version includes white shells and a four-panel color insert. All formats were created in collaboration with designer Jonathan Canady, a longtime creative associate of the band, who has worked on all of their releases to date.